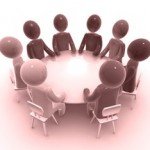 Square or Round, table that is the question.  As a professional facilitator I am always asked what type of seating arrangement I would prefer for the participants of a session. 
When possible I recommend that the participants sit at a round table.  Why round?  A round table creates energy of everyone being on the same level.  The innovative boards of the future are doing everything a little bit differently.  The traditional square board or conference table can do two things it creates hard site lines for the participants stuck in the corners.  The square or often rectangle table also creates a subliminal hierarchy that the people sitting on the shorter ends are looked at as having more power or higher standing than those on the longer sides. 
If your board is experiencing a power struggle between members or attempting to try new ideas try your next board meeting at a round or oval table and feel how the energy may shift.
Body Language expert, Janine Driver taught me to move your body, move your mind.  Let's take that to the board room. Just has body language has power so too does the "board room language" of your board room.  Don't just leave meeting room set up to chance work with your venue hotel or unique venue to create that atmosphere most conducive to creating the conversations and decisions you need to get made to move your organization forward.
How do you set up your board room to create dialogue and decision making?