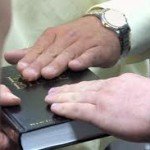 Raise your right hand and repeat after me, "I (Insert name here) promised to uphold the vision and mission and ideals of (insert organization here). I solemnly swear to uphold the principals and values of (insert organization here). Insert audience falling asleep and board members standing around wondering what they just did.
Yes, it's that time of year when organizations swear in new officers. It's a tradition that often dismissed as not important. In some organizations it doesn't happen at all.
Why is it important?
It's important for two reasons. An officer induction ceremony does when done effectively commemorates both the outgoing board for their dedication and energy infused into your organization and secondly it brings in the new officers in a way they can truly appreciate the role they play in moving your organization forward.
How can we do it better?
In this time of awarding everyone and for everything where kids get certificates and caps and gowns for walking from classroom 3b to 4a. Organizations should re-examine the processes for inducting new officers.
In all the organizations I have worked with or volunteered for the induction words are pulled out for a brief 24 hours once a year. Then they are promptly filed back into the file cabinet be it a real "old school" file cabinet or a "digital" file. In some cases they don't even know where the words are.
5 Ways To Make The Event Special:
• Pull the words of the ceremony out early and take time as a board to reflect on what an honor it truly is to represent any organization at the board level. Send a more official letter to each new participant thanking them stepping up.
• Bring in a Founder, or National/ International staff person or volunteer officer to do the swearing in ceremony and share what it means to them to have so many volunteers in the field.
• Ask a past local president to come provide the ceremony and offer up a few moments of recollecting what it meant to him/her to accept the role.
• Provide an opportunity for each new officer to tell in 1 minute or less what he/she brings to the role.
• Video tape the session for a keepsake that can be played as they complete their term of office. Take photos of each outgoing and incoming    board member and send a copy to the media with a press release and a copy to them as a keepsake.
Leadership opportunities at the board level are opportunities to see new possibilities in any organization. It should be a time to reflect on where the organization has been. It's a special moment in time that will never be exactly that same way again. Bringing on new board members is not something that should simply be a mandated policy in your policy manual. If your organization is bringing on new officers pause for a moment and truly share with the excitement and joy for the new part of the journey they are about to embark on. When your officers raise their right hand and agree to work for your organization makes it a special moment they will remember for years to come.
How does your board commemorate the officer transition process?