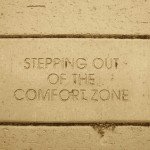 It's July for many organizations this is the first month that new leaders are walking into the board room.  It's exciting, exhilarating for some and totally scary for others.   You may have found the edge of your comfort zone.  As a board member you are now called to do something that for many is out of your comfort zone.  Boardsmanship is also something they simply don't teach you in school
For me summer means summer the first chance to walk into the dressing room of my favorite local store White House Black Market.  I'll be the first to admit a funny place to think about leadership.  If you know me, you know I can't help myself.  Walking into shop is brings up the same fears and insecurities many of you may have walking into the board room.  Here's how I handled it and how you might handle your first walk into the board room.
Totally out of my comfort zone I walk into the store.  I'm not even 5 steps in and I say to the sales lady.  "Want to play with me?" After a moment of confusion I tell her about my predicament.  I've been awarded the honor to speak on the main stage at the National Speakers Association convention.  What the heck do you wear in front of the most unique group of professional speakers in the world?   I was totally authentic and honest about who I was, what I needed and how she could help me be successful.  From that moment forward she was at my service.
So what will you do when you walk into the boardroom for the first time?  Will you sit there quietly and say nothing or will you play?  Although it may have sounded funny by opening the dialogue that I wanted to learn from those who had been in the dressing room/board room before I learned a value able lessons.
Know yourself.  What strengths do you bring to the board room? What opportunities do you have to learn?
Ask for help in the board room.
Be open to learn by getting out of your comfort zone and admitting where your level of expertise is in serving on the board
As appropriate listen and take the advice of the people who have this area of expertise.
As we all together begin a new fiscal year in leadership or for some as you enter the second half of your calendar year. Don't be afraid to get out of your comfort zone.  Ask for help and I know you will find it and with it comes new success.
How can we help you be more successful with your time in leadership?